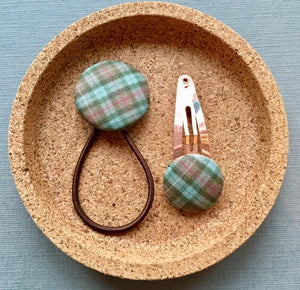 Tiny Green & Brown Tartan
Made with Weaving Major's 'Fraser Hunting Tartan'
Lovely little green and brown  tartan which works well in Large Bobbles, Small Bobbles, Standard & Tiny Clips, and all Bow sizes apart from the Diddy Bow Fringe Clips. 
Looks great with grey or white clips too! 
Due to small parts please supervise  use on children under 3 years old. 
Everything is made to order, if you would like a different coloured clip to the photo please message Monty & Mabel on Facebook or add a note to your order.
If you are ordering single clips please add a note to your order to advise which side they will be worn, and Clip colour preference.
Large Bobbles are 47mm (best suited for older girls due to size). 
Small Bobbles are 28mm (suitable with short or long elastic ties).
Tiny Bobbles are 22mm on short elastic ties (best for very fine hair)
Standard Clips are a 22mm button on a 50mm clip
Tiny Clips are a 19mm button on a 40mm clip 
Plain Fringe Clips can be single or double pronged crocodile clips
Small bows are approximately 3x6cm
Medium Bows are 4x8cm
Large Classic Bows are 5.5x10cm
French Bows are 10x10cm
Please note that sometimes clip colours or fabrics  can be out of stock, if this happens we will let you know ASAP so you can choose an alternative.