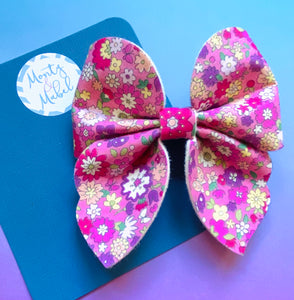 The Florence Bow
The Florence bow.
Launched to celebrate Monty & Mabel turning 4 years old, and named after our eldest daughter, Flo.  Bold and fun, these bows are a great way to make a statement.
To order, please add to your basket and write a note at checkout for which fabric you would like.  
They measure 10x10cm.
Suitable for crocodile clips and hard Alice bands.
Floral prints, polkas, blocks and glitters work best. 
Don't forget to let us know what fabric you would like.
If you are unsure of what fabric you would like please send us a message and we will be happy to help. 
Due to small parts please supervise  use on children under 3 years old. 
Everything is made to order, if you would like a different coloured clip to the photo please message Monty & Mabel on Facebook or add a note to your order.
If you are ordering single clips please add a note to your order to advise which side they will be worn, and clip colour preference. 
Please note that sometimes clip colours or fabrics  can be out of stock, if this happens we will let you know ASAP so you can choose an alternative.