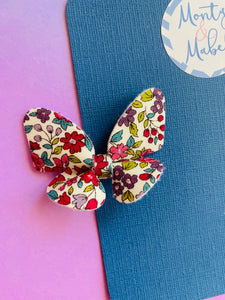 Sale: Flueri Small Butterfly Bow
Fleuri Small Butterfly Bow
This is a 4x5cm pre made bow. It will be placed on a double prong crocodile clip. 
The butterfly bows can be worn on either side, or in the middle at the back of the head. If there is a particular side the bow will be worn please add a note at checkout. 
If you would like this bow to be on an Alice band or soft stretchy head band please checkout and then contact us on Facebook to arrange any changes/additional charges. 
Due to small parts please supervise  use on children under 3 years old. 
Please note that sale orders will be packed and posted over the next week or so. You are welcome to add to the order, please message us on Facebook for a code to remove postage if you are placing multiple orders. 
Each listing is for one premade sale item. If multiple people add the same item to their basket, only one person will be able to complete the purchase. The other people should receive a notification that the item is no longer available, and the item will be automatically removed from their basket. 
We cannot anticipate the sale demand, and as this is the first sale we have held on the website there may be some hiccups, thank you in advance for your patience and understanding. 
If you have any questions please contact us on Facebook.com/montyandmabel